2022 Annual Newsletter
Jonathan Edwards Trust Newsletter
December 2022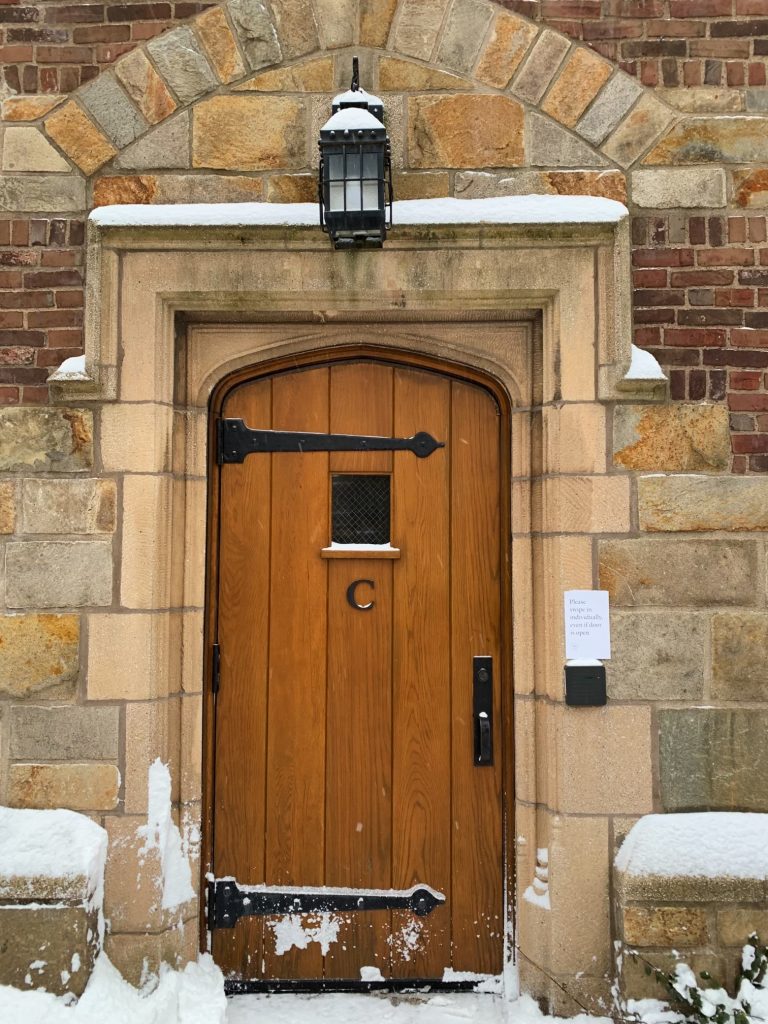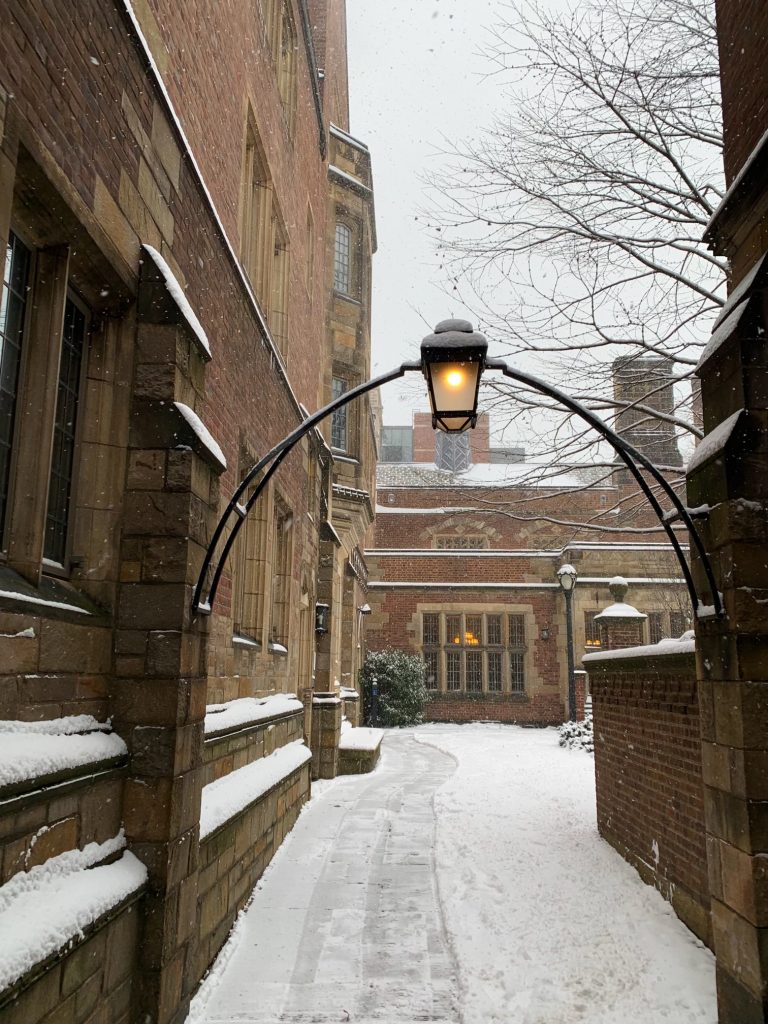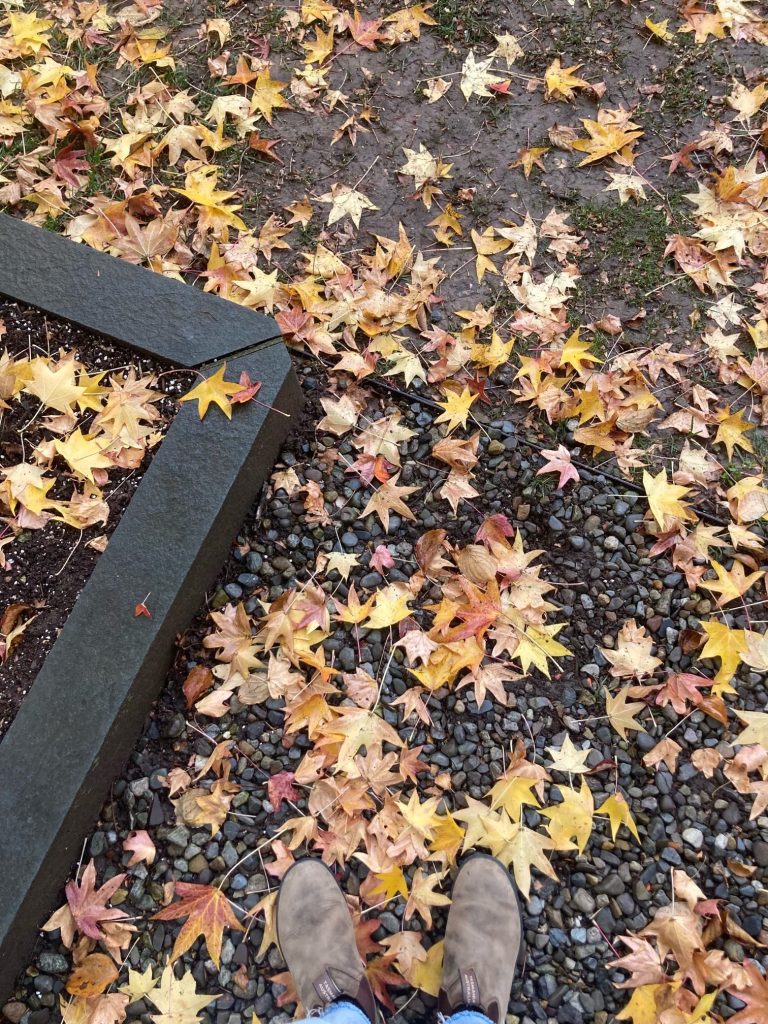 JE in the Winter and Fall. Photo Credit: Lauren Salzman '23 and Lydia Burleson '21
Dear Jonathan Edwards Alums and Friends,
As many of you know, the Jonathan Edwards Trust, founded over 50 years ago, shepherds an endowment that supports the JE community of students, fellows, and alumni by helping to fund programs and initiatives that enhance the social, cultural, and educational life of the college. From funding JE's unique "Culture Draw," which allows many students to experience live opera, dance, theater, and music performances, to "fireside chats" for sophomores, to enhancements for the JE Press, to furnishing lighting for the college theater, over the years, the trustees have worked with the Head of College to identify areas that would benefit from the Trust's support.
Having long focused on the JE community on campus, more recently, the Trust established a Committee on Alumni Affairs, charged with building connections among JE alums and between alums and the college. The letter that follows grew out of the committee's work: in addition to our customary year-end email alerting alums to the Trust's new line of JE-inspired items and the availability of The Spider's Way, passing on a bit of news about recent happenings in the college seems a fitting way to welcome the holidays. We hope you will enjoy the tribute to Mark Saltzman, who finished his term as Head of College in June, and the interview with JE's new Head, Paul North, as well as the other stories.  And if you scroll down, you will also find information about The Spider's Way: An Introduction to Jonathan Edwards College, Yale University (a richly illustrated and eloquently documented history of the college) and the holiday store with great JE-themed "swag", all wonderful items to get or to give.
If you would like to help support the Trust's work on behalf of the college, you can donate here. And you can read more about the Trust and its history here or join us on Facebook, Instagram, or Twitter. In addition, filling out a very brief survey will help us create a list of alums who would like to continue receiving these periodic communications.
With all best wishes for the holidays—and happy reading!
Eve Rice JE '73
Chair, the Jonathan Edwards Trust
---
What's New in the College
Reviving the Old, Beginning Anew, Together
Lydia Burleson JE '21
Life in JE has been meandering its way back to normal in the wake of a return to in-person events and residential college living.
At the 2021 Harvard Yale Game in New Haven, JE gathered at a "Spiders" tailgate, hosted by Miko McGinty '93, with custom JE pins designed by Julia Ma '19.
In May and June 2022, Yale hosted 5 consecutive weeks of celebrations–officially graduating the class of 2020 and 2022 and inviting 3 cohorts of alumni back for reunions. The first reunion weekend on May 28, 2022 gathered classes of '52, '57, '67, '70, '92, '97, '02, and '07. The second reunion weekend on June 4, 2022 gathered classes of '60, '72, '77, '87, '95, '12, and '17. The third reunion weekend on June 11, 2022 gathered classes of '56, '62, '71, '82, '96, '15, and '16. At each reunion, the JE Trust hosted a photo booth and a pickup site for free JE mini foam fingers to show the JE spirit.
Over the past year, the JE Trust has collaborated with Campus Customs on six different vintage JE designs for limited-run sweatshirts, t-shirts, and hoodies. View the history of all past designs here!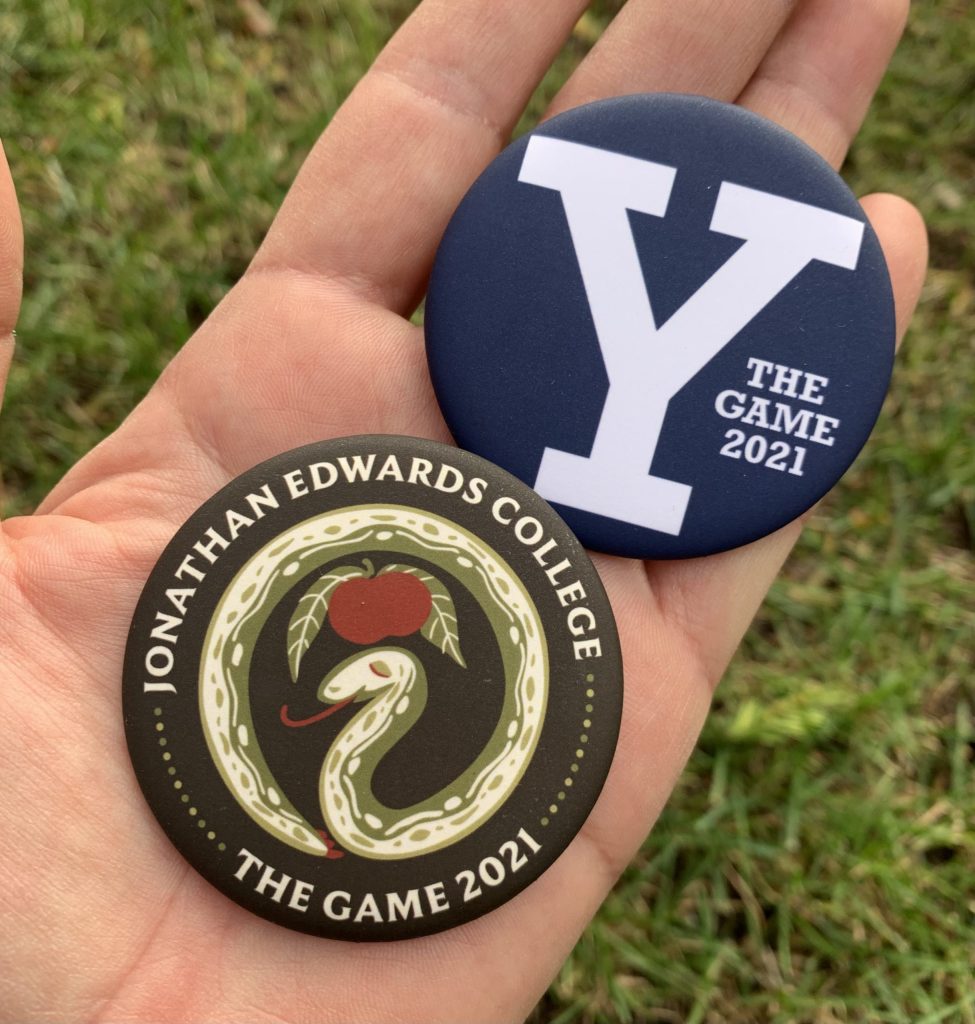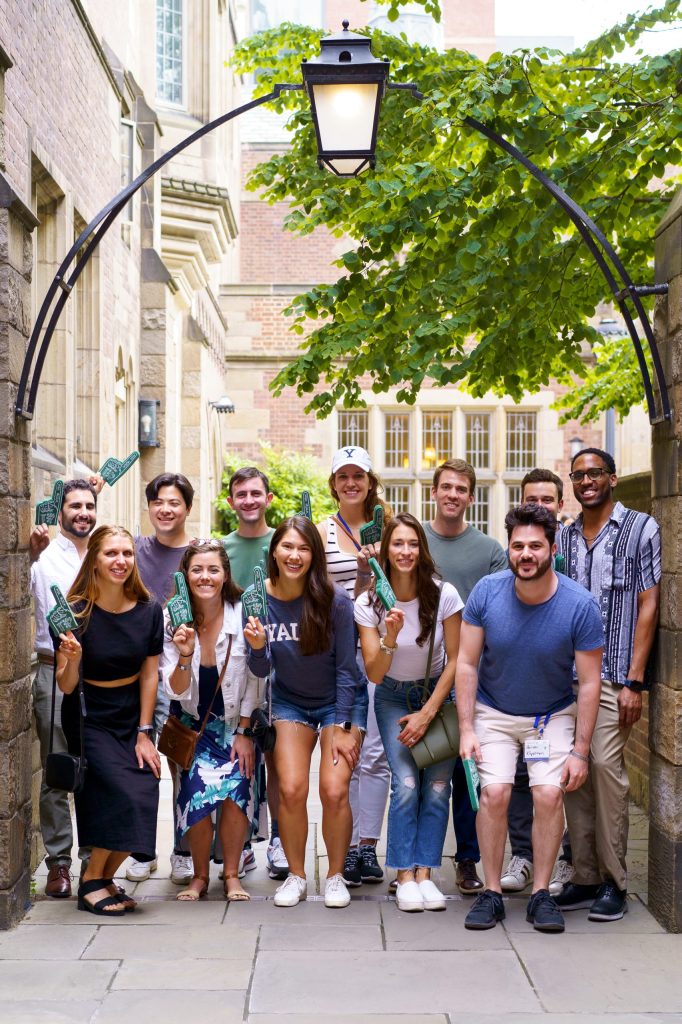 JE Buttons, designed by Julia Ma '19. 2022 Reunion photo, taken by Geovanni Barrios JE '23.
Residential College Life: An Update from the JECC
Anna Martinelli-Parker JE '24
The Jonathan Edwards College Council (JECC) is the governing student body of JE. We coordinate with the Head of College and Dean's Office to bring JE together as a community of friends. Our role in facilitating community has been especially vital post-pandemic, and we have only just returned to being fully in person. Here are some things the JECC has been up to over the past year: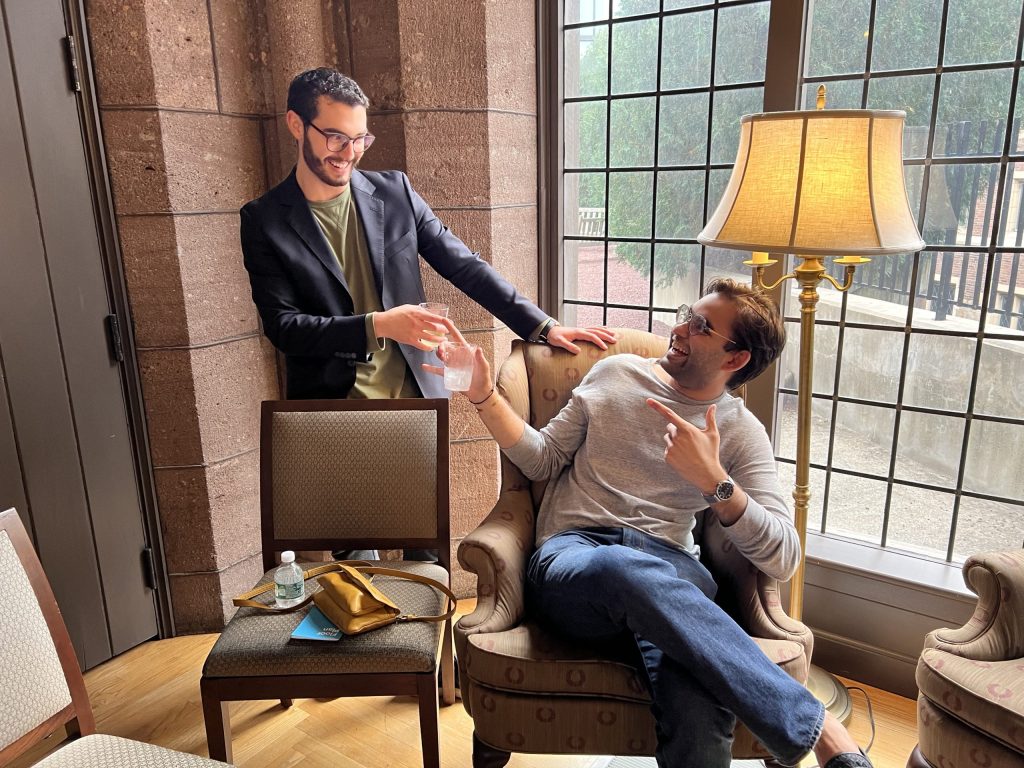 JE Students in Upper Taft. Photo Credit: Lauren Salzman '23
Weekly snack breaks called Tea for Tuesdays and Spider Cider. At each event, we set out a selection of either teas or hot cider for students to enjoy. These events are a casual place for students to snack and chat with each other, and they've been a wonderful way to get to know other people in JE.
Over 200 Valentine's Day Cupid Deliveries. Students submitted messages to the JECC, and we wrote them out in letters and delivered them to the recipients' suites along with a paper rose.
The Special Spider program. Every week, we highlight a member of JE who deserves to be celebrated. Students are nominated by their peers for things like helping out another student, having a particularly hard week, or simply making someone else smile.
Honoring Head Mark Saltzman. This past spring, Head Saltzman finished his term as JE's Head of College. At his goodbye ceremony and in honor of the playlists he included in his weekly Spider Bytes emails, JECC gathered song recommendations and messages from both current and former Spiders and compiled them into a book. Head Saltzman was succeeded by our current Head, Paul North, in July.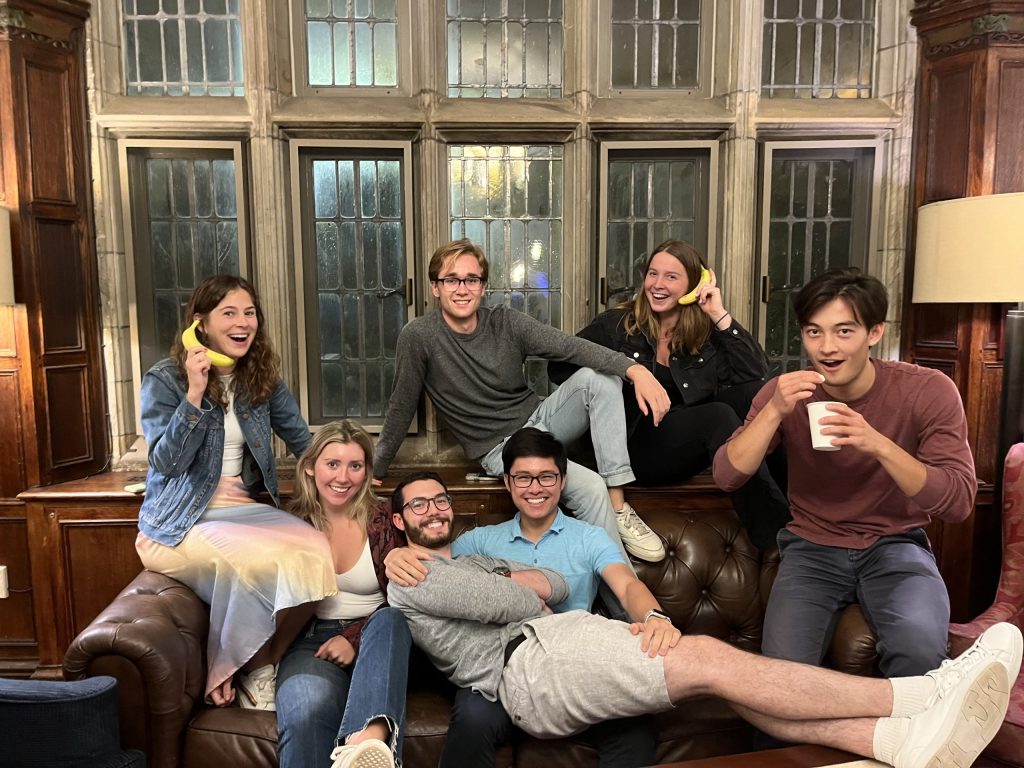 JE Students in Upper Taft. Photo Credit: Lauren Salzman '23
At heart, our goal is to help Spiders build strong memories in JE so that when we graduate and become alumni ourselves, we carry the college's rich legacy with us.
JE SUX! *
* JE SUX became the college's de facto motto in 1976 after JE students fatefully popped the Bladder Ball. After other colleges chanted JE SUX in derision of the Old Campus Bladder Ball game coming to an early end, the term was immediately taken up as a rallying cry when the JE Hockey team had an undefeated 1976–1977 year. You can read more about the motto's history here, in a piece written by Mark Ryan, JE Dean from 1976 to 1996.
---
Get to Know JE's New HOC
Lydia Burleson JE '21
On July 1, 2022, Paul North, Professor and Department Chair of Germanic Languages & Literatures became Jonathan Edward College's newly inaugurated Head of College (HOC).
Paul's five-year HOC term began when he and his partner Carolina Baffi moved their two children, Theo and Callie, and their two cats, Archie and Lou, into the JE HOC House. Paul originally came to Yale in 2009. He is affiliated with Yale's European Studies Council and teaches graduate and undergraduate classes mainly organized around Germanic Literature and Critical theory. You can read more about Paul here.
Recently, Lydia Burleson JE '21 sat down in a virtual Zoom room with Paul. What follows is a transcription of Lydia and Paul's conversation introducing Paul to JE's 5000+ alumni body.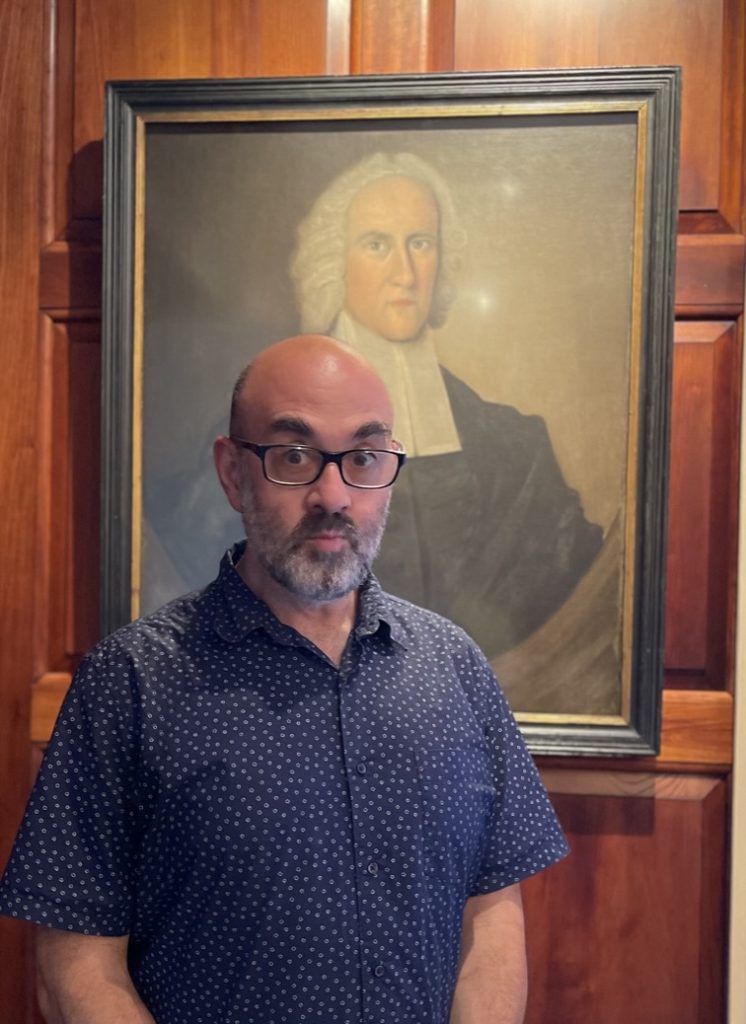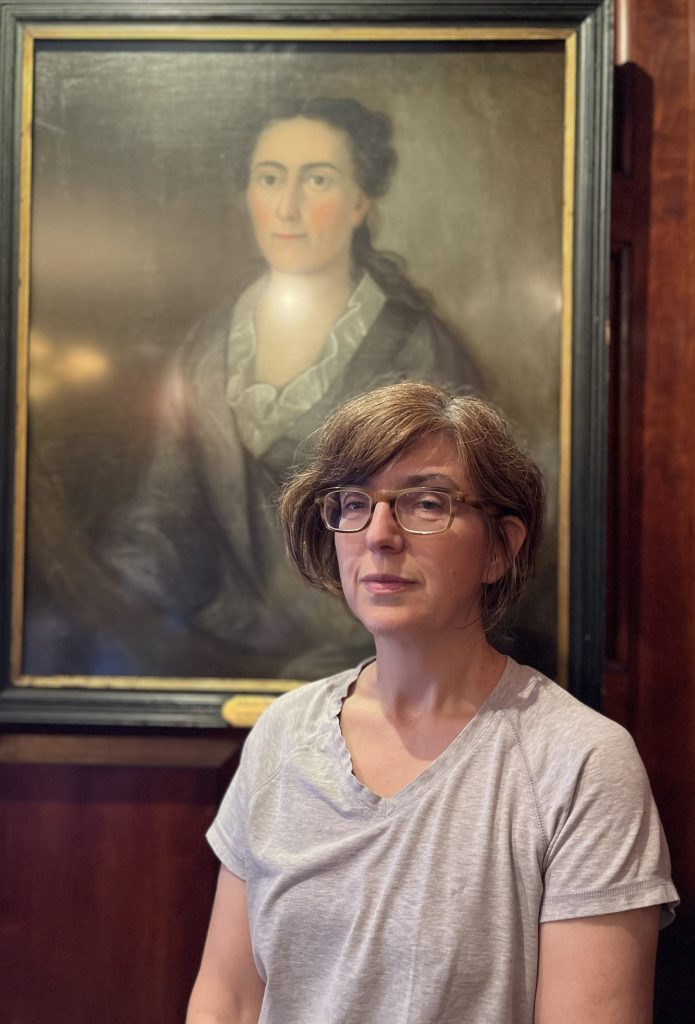 Head of College Paul North and his partner Carolina Baffi posing in front of portraits outside of the JE Dining Hall. Photo Credit: Paul North
Lydia: Thank you, Professor Paul North, for making time for this interview. How would you like to introduce yourself to the JE student and alumni body?
Paul: I'd like to thank the current students for the welcome I get every time I cross the courtyard or go into the dining hall. They have been really kind and open and have received me with joy and interest.
I think the best way I can say hello to the alumni is to thank them for inhabiting this place and for keeping and conveying on its habits and ways of doing things for the students. It's only really through their having lived here and been together, and having kept up some ways of doing things that students today can inhabit those habits. So I thank the alumni for keeping JE alive and for giving it parts of their life.
L: It's beautiful to think about the way that alumni, the people who have been in the college in the past, have created this culture that has now carried up and is currently living with the students.
In that same vein, could you say more, now that you've been in the HOC role for a few months, what has been the most surprising part? What particularly have you noticed about the way that JE students engage and inhabit the JE space together that would make you want to thank the alumni for bringing about those habits?
P: The most surprising part is how easily everyone gets along here. There are four hundred people who come and go [from the College], and the students encounter each other, and they encounter me, not only without conflict, but with joy. That's been the most surprising part when I meet students: how joyful they are about being here. This doesn't only apply to students. I am equally astonished by how dedicated the dining hall staff is and how plugged in and nurturing the college staff is. I think we take it for granted around here but it is unique.
L: How would you describe the intersections between your work as a professor, where you're studying and teaching Germanic literature and critical theory, with, your role now as Head of College?
P: Well, there are two intersections, really. I've been working with students for all of my teaching career, which is almost twenty-five years now, and my happiest place is the seminar room. In a way, being Head of College is like a seminar: I get to talk to students, get to know their minds. I sometimes even see the projects they're working on. Sometimes I get to help support their art or their music. It really is a continuum with my teaching practice.
But I also work on critical social thought, and so I'm very interested in the ways people live together, well and badly, but lately I've taken a turn from the critical towards what it means to live together well. I think of JE as an intentional community where I will learn a lot about living together well.
L: That last part particularly resonates with me. In one of my graduate seminars, we're reading theory about where our social norms come from and what it would mean to categorize something as good or bad, and how we can interrogate things that we assume to be norms.
To bring it back to the context of JE, I think Covid upset the balance of what older students were bringing to the college. It makes me happy to hear that current students are living so well together. It's nice to hear about the elasticity of it.
P: We're coming back now from Covid, and it feels like a relief, even though I understand that people like you went through a very different experience of JE for a lot of your time here. I think if you compare it to what your time in JE should have been, it could be disappointing. If you compare it to what could have happened in a pandemic, and you recognize all the care that was taken—endless meetings and preparations and considerations on safety—you could think of JE as a wonderful sheltering place.
We're trying to help students still here who went through Covid years to reconnect with this other kind of life in JE—that more open life, the more free life, the more social life, the more physically present life that comes from being able to use the JE spaces.
I'm hosting as many groups as I can in the house. And we're doing as many events as we can to try and build some of that feeling of really being here and being involved.
L: Could you describe one of the groups or events that you're hosting in the Head of College House and in the college to promote this community?
P: We're doing fireside chats in the house for the first-years, and now we're going to do them retrospectively for sophomores and juniors. That will involve hosting as many of the students as we can in the house and feeding them well and getting to know them.
These are opportunities for being together in a very casual way. We'll play some fun group games. We'll have the space where I can meet students and hear about how they're doing, and students can meet each other in a way they haven't had a chance to before.
L: That's so lovely. My fireside chats were actually in Yale's Graduate Club, so it's nice to hear that they're in the Head of College House. There's something intimate about having it in in the Head of College House.
P: And the most fascinating aspect of those evenings is always the cats. Everyone reconnects with their own pets through our two cats.
L: That's a good segue. Can you introduce your family and your pets to us?
P: The cats are Archie and Lou. They are named after a sixteenth century artist (Giuseppe Arcimboldo) and a twentieth century artist (Louise Bourgeois), and they are not artistic at all, except insofar as all cats are artists of their existence. They are now sitting here looking out the window at the courtyard. The wild and sassy JE squirrels are the most exciting thing that ever happened to these cats. One of them is very happy when students are in the house—Archie, and the other one—Lou—hides.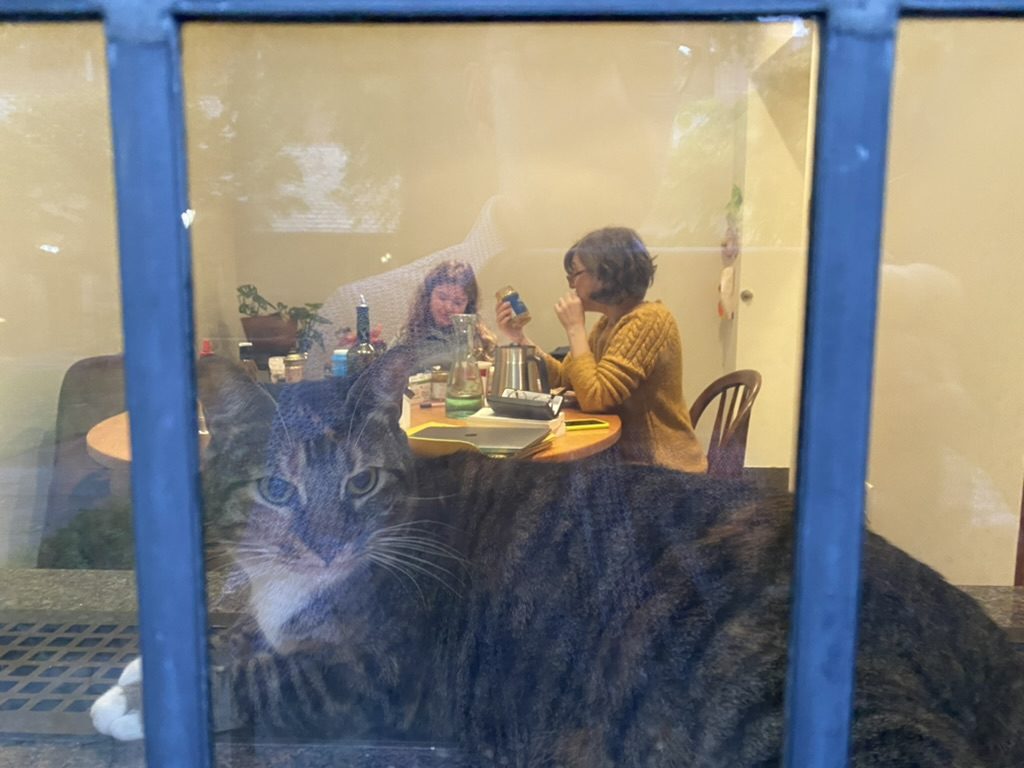 One of the North cats, perched in the HOC house window. Photo Credit: Paul North
I can introduce my partner, Carolina Baffi. She is a lecturer in the Spanish Department and a scholar of Latin American literature. And she's very happy to be here and loves being with the students and going to events. In fact, some of her Spanish students are JE students, and she's had a chance to speak to them in Spanish in the courtyard.
Then I have two kids, Theo and Callie. Theo is thirteen, and Callie is just about to turn nine. She will have her birthday party in the Head of College House with six of her friends. She's planning it maniacally—every moment, every game, every color.
Callie and Theo are currently extremely excited about Halloweek. We went thrifting the other day for all sorts of crazy things for costumes. Theo bought a suit. I said to him, "What are you going to be?" As a teen, he can be quite laconic. He said, "A guy in a suit." Callie is going to be a vampire. She has the teeth and the fangs and the claws and some dried blood make up.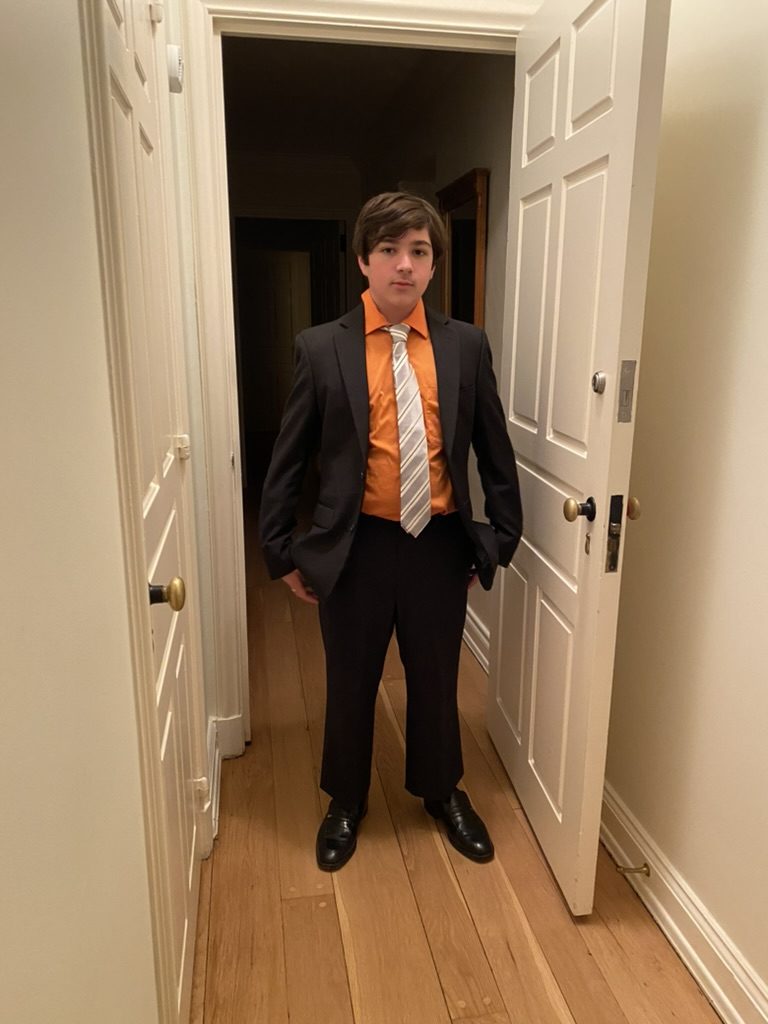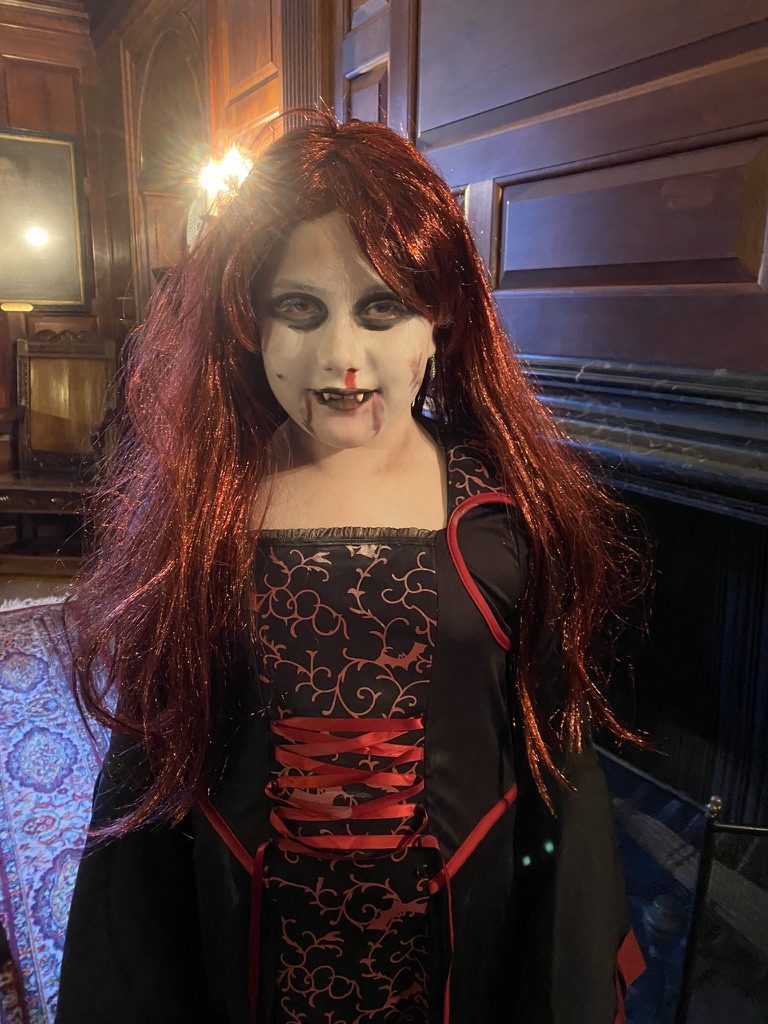 Theo and Callie in their 2022 Halloween costumes. Photo Credit: Paul North
L: Does Carolina teach in Directed Studies? I remember seeing her name or hearing a lecture when I was in the program 5 years ago.
P: She is! Or She was! You were a DS student?
L: Yes! I was a first-generation, low-income student from rural Texas and was like a fish out of water that first year in those classes. But now as a graduate student, I'm very glad that I did it.
P: DS is a big thing, and I could understand how transitioning from a different background into it could be overwhelming.
You know we have an unprecedented number of what they're calling first-generation, low-income students, although we don't have to identify them only in that way, because of course, they're also just plain brilliant. We have a rising number of brilliant students who come from backgrounds that are alternative to the usual backgrounds that Yale students traditionally come from. That also gives me a lot of joy.
L: I think it's great how higher education in these elite spaces is diversifying in this way. It makes for better conversations, and it allows people to fully have a space to question what they want their community to look like, when the people in the community are all coming with different perspectives of what community in the past has looked like for them.
P: These backgrounds add something to the place, that's right. I also think we're making good on a promise that higher education gave but didn't fulfill for a hundred years or so, which was to provide for the whole of this society—and let's not forget international students.
L: Here's my final question: What do you envision for the future of your role with the college? And a potential way to answer that is with this question: what's your favorite current tradition or what is a tradition you'd like to bring back or start new?
P: I'm just finding out what a Head of College has been, what people expect, and I'm beginning to think of what it could be. So, I don't really have a strong answer yet. In a year, maybe, I'll have a stronger answer.
One thing I do see is that my role can have a positive effect with individual students, not just in helping them through crises, but in supporting them in their paths as intellectuals and people moving into different areas of life. My hope is to really get to know students and to accompany them while they're here, and then to get all the news back after they leave.
Of current JE traditions, I haven't seen too many of them yet, but so far I think my favorite is student governance through JECC [Jonathan Edwards College Council]. I went to a meeting, and I really love how students work together in a horizontal way. The JECC has a way of giving everyone space to talk and share where they're at, and also to work toward concrete projects. One of these was the recent revival of an older tradition, crowning the Tulip Princess—all the work of the JECC.
A tradition I'm thinking of starting has something to do with helping people learn to write. This comes up on the advising forms that people fill out. For the vast majority—seventy or eighty percent of students—the thing they say they are most concerned about before coming to college is writing essays and particularly interpretive essays, so I'm hoping to incorporate a program into college life where people get more than help with an individual essay. I am developing a program to help students develop their writing to a point at which it feels natural to interpret the world in complex sentences and paragraphs. Writing is still the main mode, still the most reflective mode for articulating thoughts and for communicating with other people in a shared world.
L: This has been great, Paul. Thank you so much for making time for this.
P: It was so nice to meet you.
---
A Farewell to Head Mark Saltzman
Lydia Burleson JE '21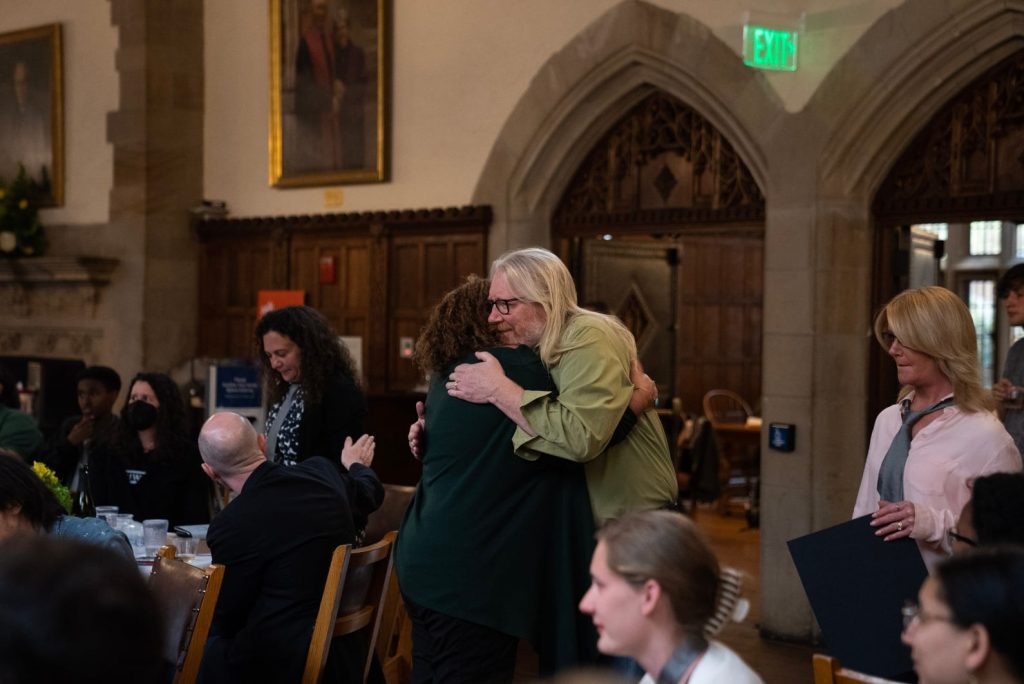 Head Saltzman at his farewell dinner in May 2022. Photo Credit: David Stanley JE '23
On July 1, 2022, after completing his six-year term, Mark Saltzman passed on the Head of College title to JE's current Head, Paul North. While the summer marked an end to Mark's time as Head, it does not mark the end to his involvement with JE, his legacy, or his presence around campus, where his lab and teaching continue to educate the next generation of engineers and applied scientists.
Having Head Saltzman at the helm shaped my entire time at Yale. I first met Head Saltzman in an email in 2017, when he and JE's Dean Chrtistina Ferando introduced themselves, their families, and encouraged excitement for what was to be the next chapter of the incoming "Spiders'" lives. Coming from an impoverished community in rural Texas, before I had any firsthand experience with higher education, I was both intimidated and excited to learn that Head Saltzman had been assigned as my first-year advisor. Amidst the anxiety of moving into JE's Farnam residence on Old Campus, I met Head Saltzman for the first of many times. He was there with his wife, Christina, and his daughter, Noa, welcoming us all. These first memories are who Head Saltzman has always been to me and other JE students: welcoming, kind, and a steadfast presence.
For half of my time at Yale, I met with Head Saltzman each semester to discuss my schedule. Though it might have seemed an unlikely pairing—a professor of biomedical engineering and a budding student in English—we connected because of our shyness, as well as our openness to putting ourselves in uncomfortable positions in order to grow.
Some of my fondest memories of Head Saltzman come from the latter years of my time at Yale and his final years as Head of College. Head Saltzman sent weekly playlists to students in Sunday emails, and the song recommendations he'd shared were often a bridge to further conversation—we discussed Lil Nas X's "Old Town Road" and the surprising mix of genres that created something never heard before. My senior year, when seemingly all college life had become virtual because of the pandemic, Head Saltzman asked thoughtful questions of my Paskus Mellon presentation on James Baldwin and media representation. And when I finally got the chance to attend a Paskus Mellon talk in person, the year after graduation, Head Saltzman shared my joy in being accepted for a position in Stanford's English PhD program: another shy kid from a rural area who had found her academic way.
This was the kind of person he was as JE's Head: he engaged with students fully. He invited us into his life and shared in ours. My undergraduate time at Yale would not have been as meaningful and fulfilling if it had not been for people like Head Saltzman, who guided the college through a pandemic and helped us all through the natural "growing up" that comes with leaving home.
Thank you, Head Saltzman, for the time and care you shared with me throughout my early academic journey—and for the life you brought to JE during your time as Head.
---
JE Traditions Old and New
On Bringing Back the JE Tulip Princess
Joanna Ruiz JE '25
Being from a small city myself, I am obsessed with small-town stories and traditions. Although JE is not a city or a town, we have our fair share of traditions, many of which have been lost or forgotten over time. After scrolling through the 'Jonathan Edwards College' Wikipedia page, I found a short, two-sentence mention of a Tulip Princess. I brought this up to the JECC (of which I am a member) and enthusiastically championed the idea of bringing the tradition back!
None of the current JE staff had any idea what a Tulip Princess was. In retrospect, we should have reached out to alumni, but we had no idea how far back the tradition went. As a result, the JECC created the Tulip Princess procedures from scratch and consequently, all Spiders were on board. It was great to see a lot of enthusiasm around the Tulip Princess campaigns, and crowning the Princess was very rewarding! After a YDN article was written on the crowning, Brian Valencia JE '05 reached out to me to tell me the full Tulip Princess story! It's very satisfying to now know that the tradition started sometime in 2002 or 2003 and brought out (and continues to ignite) the JE spirit in all Spiders.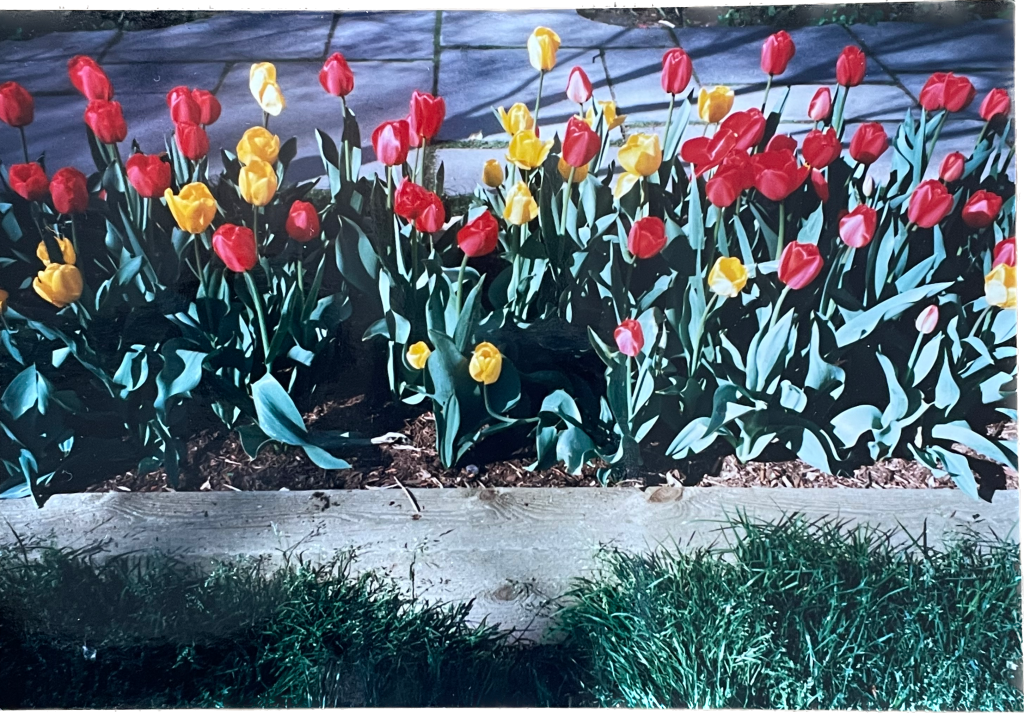 Vintage Tulips. Photo Credit: Sondra Haller 
Words from the Tulip Princess
On October 2, 2022, JE crowned its first Tulip Princess in 12 years. Meet Cam Bell JE '23, 2022–2023 JE Tulip Princess, who was selected for embodying dignity, grace, resiliency, internal beauty, vibrancy, and fortitude—the traits of the JE tulip.
Name: Cam Bell
Major: Biomedical Engineering
On his coronation: "I am honored to be the Tulip Princess, the spiritual leader of JE. I plan to write small poems and be a light for both JE and its beautiful tulips."
One of Cam's poems:
It's a great day to have a great day
The sun is out… HOORAY!
Find the time to go outside
And have a happy Ha-Ha-Holiday 🙂
❤️?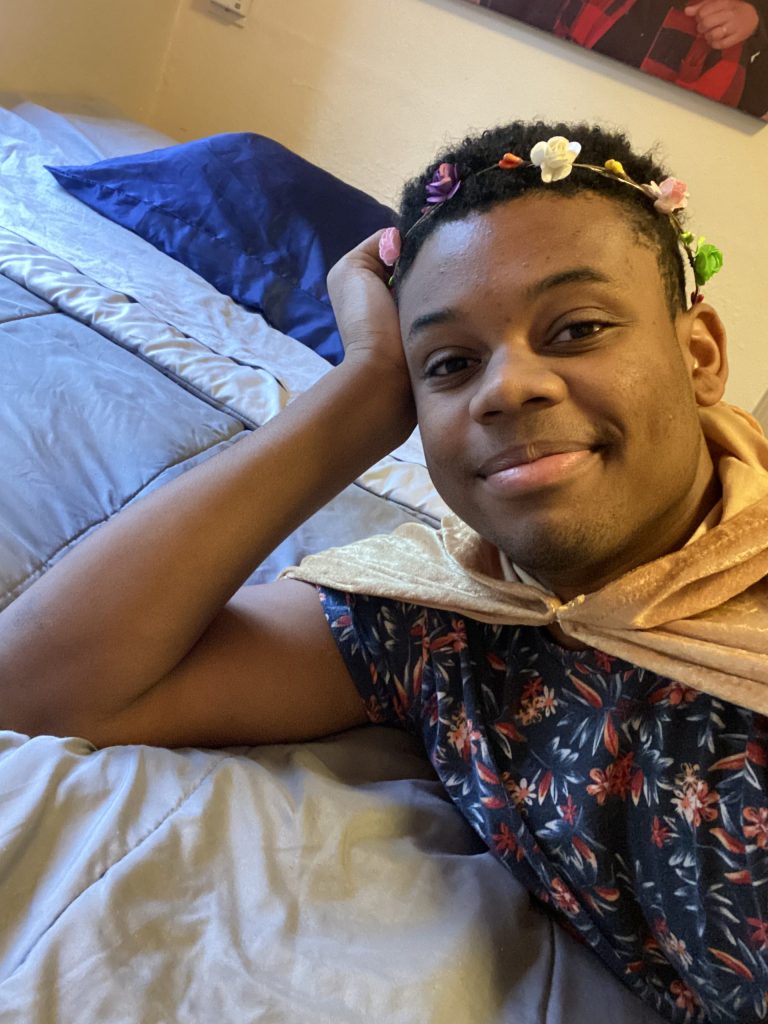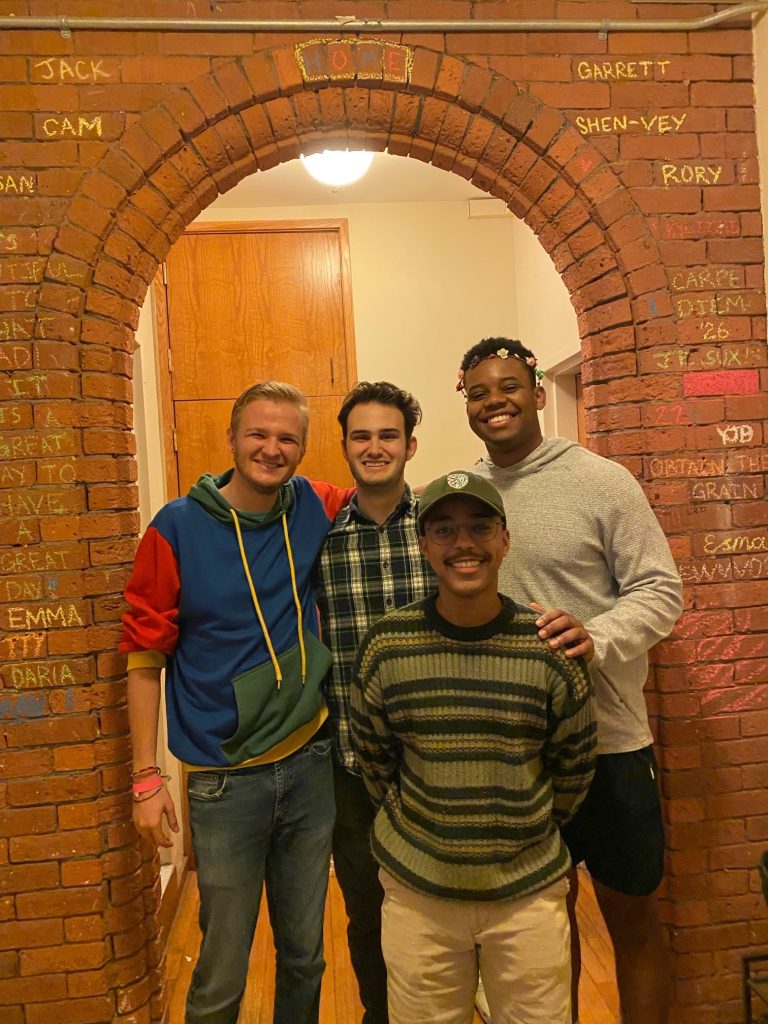 Cam Bell, 2022-2023 Tulip Princess, with his first-year suitemates. Photo Credit: Cam Bell JE '23
A Few Words on the Tulip Fund
Mark Ryan, Former JE Dean 1976–1996
The Tulip Fund goes back to a gift to the College from former Master* Beckman Cannon, given in honor of his wife Margaret Cannon. By my records, the original gift must have been in 1995 (or thereabouts); shortly thereafter, it was amplified by Mr. Cannon. Originally it was a gift for "horticulture," but it was soon narrowed to a Tulip Fund in recognition of Margaret Cannon's fondness for the flowers. As Master, Gary Haller, supported by Sondra Haller, played a key role in regularizing expenditures for the tulips.
Editor's note: Each spring, the JE courtyard comes alive with a dazzling display of tulips. The abundance of blooms is a wonderful sight for anyone lucky enough to pass through JE on a spring day. The bulbs are funded by a special endowment.
As Mark mentioned in his note, former Master Gary Haller and his wife Sondra helped regularize tulip care during their time in the college, from 1997 to 2008. Sondra notes that when they arrived in JE, they encountered some problems: "Tulip bulbs do not bloom every year, squirrels were eating the bulbs, the ground was compacted, and students sometimes damaged the existing horticulture." Sondra suggested that some of the tulip funds be used to install ten raised beds, five on each long side of the courtyard. She said, "not everyone was happy with that solution because JE has such a small central area, but agreement was reached to place the beds between the dogwoods nearly touching the sidewalks." With these new beds, Sondra ordered 1,000 tulip bulbs, 100 per bed and the following spring, in 1998, the tulips were beautiful. Sondra also recalls how, during her and Gary's time in the college, tulip planting was accompanied with a tulip festival, always held in October. She said, "The dining hall always provided a TipToe thru the Tulips cake and both hot cocoa and cider. The notorious Men of JE sang their version of the song, and a King and Queen were crowned. One year Dean Farley's baby daughter was crowned the Tulip Princess. Some years various suites or groups would adopt a [tulip] bed and challenge others to compete [to plant them]. My only rules were no straight rows."
* In 2016, Yale retired the use of the term Master and replaced it with Head of College. To maintain historical accuracy, the JE Trust refers to former Heads of College by the title they'd originally been given. You can read more about this title change here.
---
In Memoriam
Miko McGinty JE '93
The JE Trust is sad to announce the passing of Dr. Bernard (Berny) Lytton, Head of College of JE from 1987–1997. He was the Head of JE for many of us—a warm and caring leader of Jonathan Edwards College, and an engaging presence at Yale. I have many memories of JE in the Lyttons' day—of the Halloween contests, dinners, the Dalai Lama's visit to JE, commencement and conversations at meals and in the courtyard. Thank you Dr. Bernard Lytton (1926–2022).
A beautiful account of Dr. Lytton's life and contributions to Yale was written by former Master Penelope Laurans and published in Yale News. Find it here.
On its Facebook page, the JE Trust has posted another moving tribute to Dr. Lytton, a talk given by former Dean Mark Ryan as Dr. Lytton stepped down from the Mastership in 1997. His talk is followed by comments from others in the JE community. Find them here.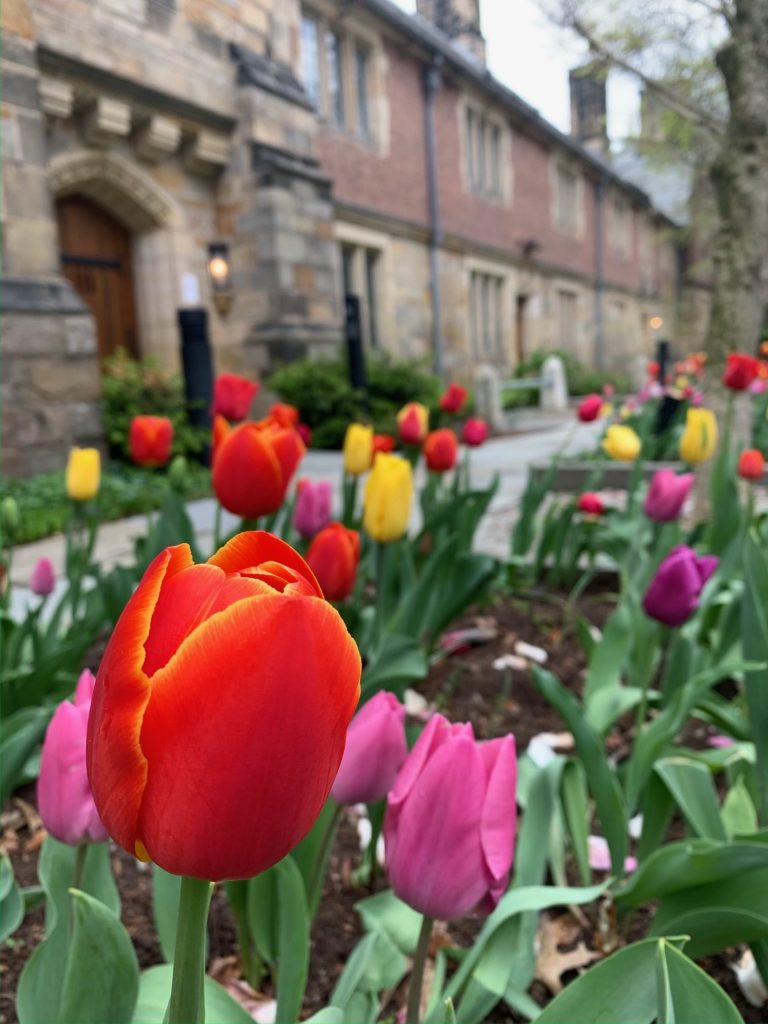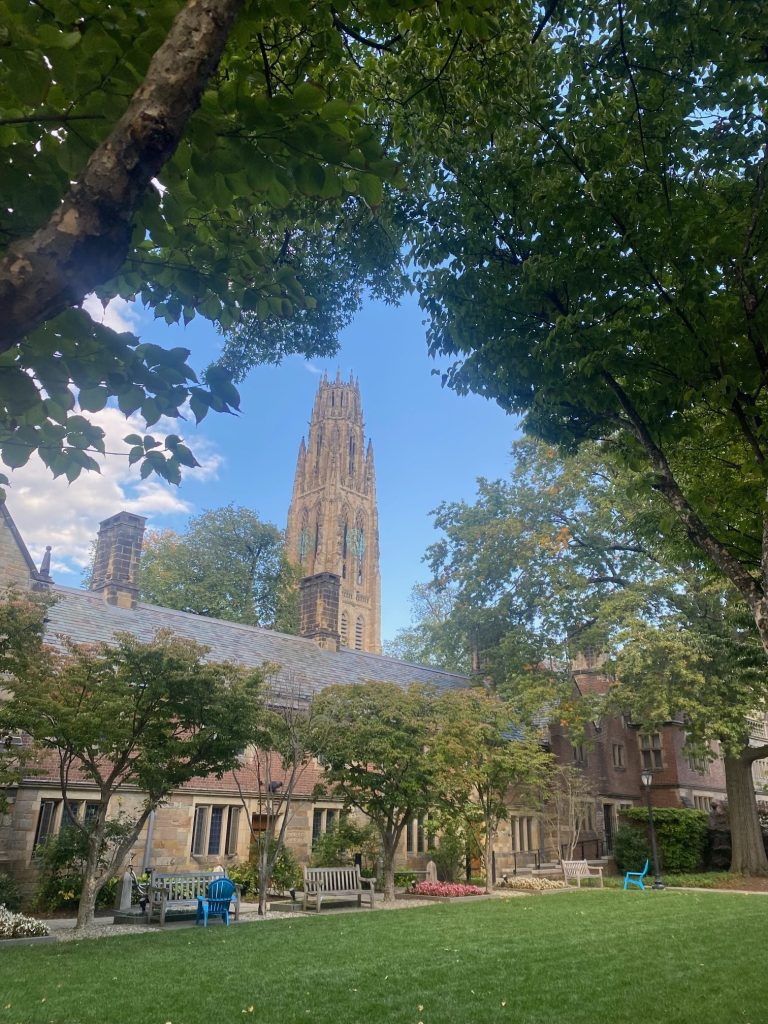 JE Tulips and Courtyard. Photo Credits: Lauren Salzman JE '23
---
Thank You!
Thank you for reading the Trust's December 2022 newsletter.
If you are interested in obtaining a copy of The Spiders' Way, a beautifully written and illustrated history of the college, you can find information here. 
And you can browse our December collaborative store with Campus Customs here before it closes on December 11th!
We'd like to hear from you! Please consider sharing your thoughts about this project here.
Our best wishes for a happy holiday, from the Jonathan Edwards Trust!